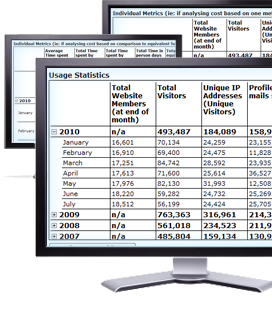 Our advanced survey capability means you
can capture the results of:
e-marketing & e-newsletters
Customer feedback
Market research
Polls
Competitions
Orders
Online exams
Google Analytics Setup
Also, our inbuilt reporting tools enable you to track and report on:
Website usage
Page views
Number of website visitors
And much more...
These results are automatically compiled and accessible online 24 hours a day to
help your business work smarter and faster.
Viewable & updateable on all major platforms & browsers, including:
PC, mac, iPhone, iPad, android phone, android tablet, PC mobile phones & PC tablets
Internet Explorer (IE) 8 & 9, Firefox, Google Chrome, Safari
No "apps" required!