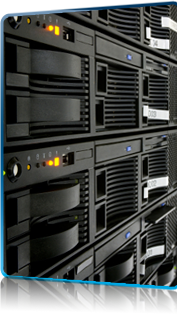 Your website is hosted in a security access controlled operations centre, which is manned 24 hours a day, 7 days a week, 365 days a year.
VESDA laser detection smoke system
GFS 12 month data backup system with offsite backups
18 CCTV camera video surveillance
Our managed hosting solution's facilities have:
A 24 hour security guard in a bullet-proof control room
Motion detection and CCTV surveillance around and throughout the data centre
Electronic security card access for all staff members
All visitors are escorted by personnel
Our managed hosting solution maintains a comprehensive Disaster Recovery Plan that is regularly reviewed and tested.
The hosting solution uses a detailed backup and off-site archive mechanism to ensure that data that might be required to restore any portion of a system is available from either local or off-site tape storage.
Due to our unparalleled connectivity to the Internet, bandwidth restrictions are never an issue for our clients.
The Control Centre features over half a gigabit per second of connectivity. This is delivered via four high capacity divergent path links connected to Optus and Telstra.
As policy practice, the Control Centre ensures that it always has four times the capacity of its peak traffic loads.
We take complete responsibility for the provision and management of the operating system environment, in line with our Service Level Agreement. This includes responsibility for appropriate deployment of patches and configuration changes.
We continuously monitor public and manufacturer supplied information sources to ensure that performance and security are maintained at the highest possible levels.
We have extensive experience in managing a range of operating systems in complex environments under heavy user loads.
The high service levels offered by our hosting solution are supported by a hardware platform from leading manufacturers, HP.
These platforms are monitored using external monitoring tools, as well as Simple Network Management Protocol (SNMP) agents, to give detailed and rapid monitoring of individual hardware components.